Brands have colonized Facebook, Twitter – okay, that's old hat.
But today I read this article about Whole Foods and its Pinterest account. I found the marriage bizarre at first, until I got to the screenshot: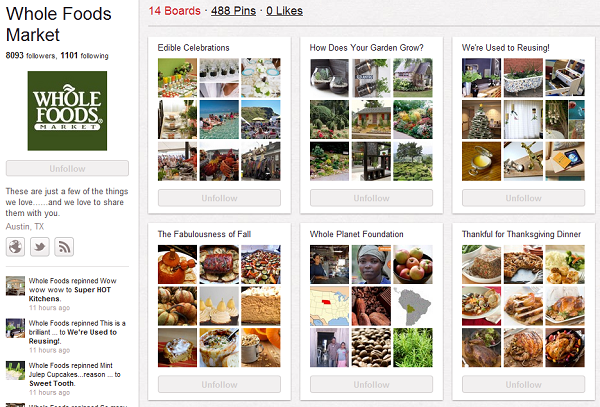 Check the left sidebar, where Whole Foods describes its account thusly: These are just a few of the things we love……and we love to share them with you.
And like that, it made complete sense. I hope I don't sound histrionic, but it was like Whole Foods became a person — a personality, a beating heart behind the plaster. And why wouldn't brands have pinnable interests, anyway? Explains Lisa Barone (the article's author)—:
"Whole Foods also uses Pinterest to show what the company is about at its core. What I like about the Whole Foods Pinterest board is that, even if I've never had a single encounter with the brand, based on the boards I immediately know what it represents."
The boards say it all:
"Edible Celebrations" & "Thankful for Thanksgiving" – Besides the obvious food pornography, there's the sense that the brand is about celebration. Festivity. The good of life. Family and friends.
"How Does Your Garden Grow" – Outdoorsiness. DIY ethic. Freshness. Local.
"Whole Planet Foundation" – Is screaming: "And by the way, we care like crazy."
But, hey, medicine is a brand too, right?
So next step: I wondered, what would I, future medical practitioner, pin?
What "more" might we want our patients to know about us?
Levitating Pinterest boards started popping up in my imagination. Some are obvious (staff and patients, charity events, research breakthroughs), so here are a few other ideas that I believe leverage the essence of Pinterest, which is, can your topic be represented using images only?:
1. History of the practice/hospital, in pictures (example Pinterest) — If you've ever looked at current medical Tumblrs or Pinterests, there's A LOT of interest in vintage medical photographs (a la LIFE Magazine's famous photo essay on the Country Doctor in the 1940s). They tell so much about where the practice came from and the community it has evolved to love and serve.
2. Medical infographics (example Pinterest) & fact vs. fiction — Could be a hit for educating patients on prevention, especially if concentrating on community-specific topics (e.g., how can a Toronto family doc help her patients understand that they need to get X units of Vitamin D in the winter?).
3. Medical illustration and literature (example Pinterest) — As with the vintage photographs, there's huge interest in Gray's-style anatomical sketches, art celebrating the human form, medical humanities. Besides just being beautiful to look at, such a board could inspire patients and families to become more expressive and creative during the illness experience.
To summarize, I love to see practices and hospitals blogging, for sure, but sometimes a picture really is worth a thousand words.
Especially since, judging by the state of most hospital social media engagement, you'd think that all people do is culture stem cells and fundraise.
Maybe we can show our communities a different side once in a while!
No related posts.